The Lytton Fire
Almost one year ago, on June 30th, 2021, the beautiful Village of Lytton, BC was destroyed by a wildfire that swept through the town with such speed and fury, most residents didn't have time to grab much, if anything. Only a few things in Lytton were unscathed by the devastating fire. One of those things, was a small vineyard on the opposite side of the Fraser River called Winch Spur Vineyard. Owners Chuck and Nonie McCann farm this small vineyard planted in Pinot Gris grapes. Here's a link to a video that explains what happened.
Grapes With A Special Purpose
As our winery is based in Lillooet, Fort Berens Estate Winery has a deep connection to the people and community of Lytton. A few months after the fire, while driving from Lillooet to Lytton to pick the grapes from Winch Spur Vineyard, our team, deeply moved by the devastating loss in Lytton, crafted a plan to launch a fundraising campaign. These Pinot Gris grapes from Lytton escaped the fire, and became grapes with a special purpose.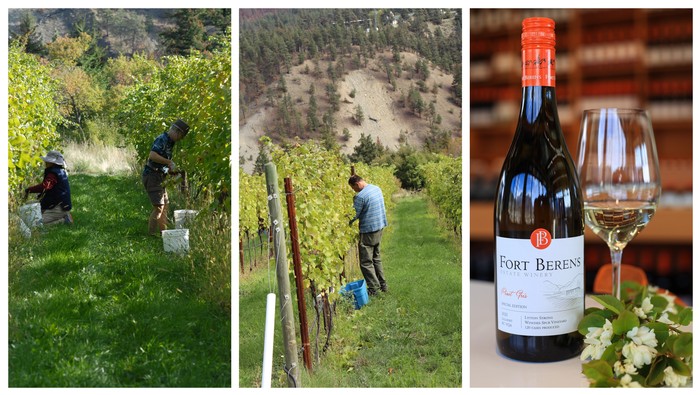 Lytton Strong Special Edition Pinot Gris
Today we are absolutely thrilled to announce the launch of our Lytton Strong Special Edition Pinot Gris, made exclusively with grapes from Lytton's Winch Spur Vineyard. Along with our vineyard partner, Winch Spur Vineyard, and with support from industry partners including TricorBraun, Elite Print Services, and Artus Bottling, we are thrilled to announce that 100% of the proceeds from the sale of this special edition wine will be donated to this fundraising campaign. To hear more about this wine and how it will help, watch this video here.
With just a limited amount of wine produced, 120 cases (1,440 bottles), we expect it to sell out very quickly. It will be sold exclusively in our tasting room and on our website. The wine is sold in packs of 3 bottles for $100 (plus taxes, bottle deposit and shipping). The full $100 per 3-pack will be donated to the fundraising campaign. To maximize the donations to the fundraiser, we are not able to offer a discount on this wine to our Discovery Club members.

Silent Auction
In addition to the fundraising wine, we have also put together a silent auction, which is on now through June 12th. There are 70 incredible silent auction items, donated by some pretty awesome businesses that wanted to help. You can bid on items here. There are many tourism, culinary, wine and hospitality items. Some are very unique bucket list experiences. Some are for items that you might buy anyway, so now you can buy those items in the silent auction and know that you are supporting Lytton. You can bid on these items from anywhere in Canada. The total value of the silent auctions is well over $50,000! While you are on this fundraising campaign website, you can also make a donation and receive a tax receipt.
The Lytton Community Outdoor Pool
Wondering how your support will help? It's been almost a year, and people are still out of their homes. Watch a video here for an update on how things are today.
With our goal of raising $125,000 with this fundraising campaign, we can help to rebuild the Lytton outdoor community pool. The outdoor pool is a hub of the community. It's a legacy project that will benefit everyone in Lytton and the surrounding area for many years to come. The outdoor pool is a spot where families and friends come together. To enjoy, to have fun. We wanted to help bring this joy back to the people of Lytton like the community had in earlier days with their pool, as shown in the photo below. To see more, watch a video here.
Thanks to our Sponsors
In addition to all of your support in bidding in the silent auction, buying this fundraising wine, and donating, a number of corporate sponsors have also stepped up to help us reach this goal. Thank you to all of these community minded sponsors.